January 16, 2001
Today is another sad day in our country. After much compelling evidence against Erap,
the majority of the senate has now proven their allegiance to the embattled and guilty Estrada.
Last night, 11 senators voted against opening the crucial evidence
that will prove that Estrada stole more than P3.3 billion or equivalent to 60 million dollars.
I am angry. I am distraught.
This public betrayal is so unbearable, it can never be justified.
January 20, 2000 - PEOPLE POWER II
NEVER FORGET! NEVER AGAIN!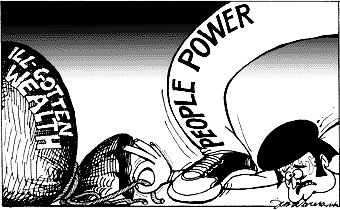 Picture Courtesy of The Philippine Inquirer
ERAP HAS NOW LEFT THE BUILDING!
So, what's next for Erap? Click
here
to see.
Let us now support our new President Gloria Macapagal-Arroyo.
Citizen's Watch: Ibasura ang mga TRAPO
ERAP JOKE FOR THE DAY
Wala ngayon . . dahil si Erap ay isa nang malaking katatawanan!
Isama na rin natin ang mga nag-onse sa taong bayan.
Remember their names:
Miriam Defensor-Santiago, Francisco Tatad, Tessie Oreta, John Osmeņa, Gringo Honasan,
Juan Ponce Enrile, Tito Sotto, Robert Jaworski, Blas Ople, Ramon Revilla and Nikki Coseteng
They are better known as the 7 STOOGES and 4 JORKs (as in JERKS).
Send them a message for giving us the reason to fight again!
---
Home | Welcome - Who We Are | Beyond Books | Things That Matter | The Theresian
Litrato | Graduation | Guest Book | View Our Guest Book | Our Thanks | Links
Site Created and Maintained By



Since August, 2000
Last Updated: January 25, 2001
Disclaimer: If you would like your article or picture to be excluded from this site, please inform Kulot.